ASASE is a Geneva association of public utility that is benefitting of a tax exemption granted by the State of Geneva.
It does not pursue any political, religious nor commercial aims.
Since its creation, exceptionally low administrative costs have enabled ASASE to allocate yearly 95% of funds raised to the projects on site.
ASASE has always been supported by the Geneva public authorities, by other European associations of Friends of Sister Emmanuelle and by various international charities.
ASASE currently supports development programs in South Sudan (since 2007) and in Haiti (since 1996). Read More


Who is Sister Emmanuelle ?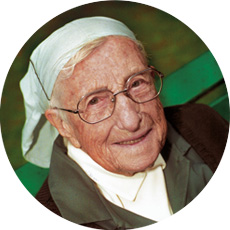 Sister Emmanuelle (1908-2008) is a Franco-Belgian nun who, at 63, decided to share the life of the inhabitants of the Egyptian slums near Cairo. Eight years later, in 1979, with Michel Bittar, she created the Swiss Association of Friends of Sister Emmanuelle (ASASE).
News

Visit reports from ASASE's Director
Download the report (November 2022) - in French
External evaluation reports
Download the report (april 2016)